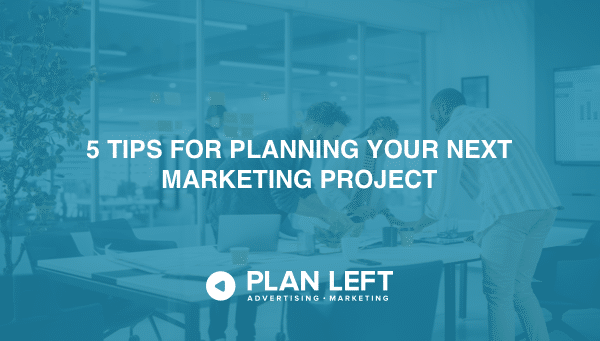 Updated Content on 06/22/2023
Are you working on a marketing project and feeling overwhelmed by the planning process? Effective planning is the key to success, whether launching a new product, revamping your brand, or executing a large-scale campaign. But with so many moving parts and variables to consider, planning can be a terrifying task.
We've compiled five quick tips to help you start your next project. You'll be planning a project in no time, with everything you need to follow through until the end.
Marketing Goals
How will you plan a marketing project without knowing what you want in the first place? With clear goals in place, measuring progress and determining whether your efforts are actually working is so much easier. So, take some time to define your marketing goals before diving headfirst into your next project.
When setting marketing goals, it's important to make them specific, measurable, achievable, realistic, and timely. That's what we call SMART goals! Make your goals detailed enough to give you a clear direction, measurable so that you can track your progress, achievable so that you can make that progress in the first place, realistic so that you don't set yourself up for failure, and timely so that you know when to look back on your efforts.
SMART goals can look like many different things, depending on the benefits you want for your brand. For example, you may want to increase website traffic by 25% within the next six months. You could achieve this through weekly blog posts, social media promotion, and email outreach. Or, you could plan to boost sales by 15% in the coming year, which you will accomplish by expanding into a new market segment and launching a targeted advertising campaign to reach that audience.
By setting realistic and well-defined marketing goals, you can stay focused and motivated throughout your project and ultimately achieve the results you're looking for.
Quick Tips:
Start with your business objectives. Your marketing goals should align with your overall business objectives.
Consider your target audience. Your marketing goals should be tailored to your target audience, considering their preferences, behaviors, and needs.
Organization
Aside from establishing marketing goals, organization is the most critical part of a successful marketing project. The more organized the client, the more efficient and cost-effective a designer or content writer will be.
What are you looking for with that graphic you need to get made? What does 'modern' design mean to you? What do you like and dislike? What are you hoping to avoid in your project? What's worked in the past? Once you've defined your goals and created a timeline, you can assign tasks to team members based on their skills and expertise.
To stay organized, it's important to use the right tools and techniques. This might include project management software like Asana or Trello, which can help you keep track of tasks, deadlines, and progress. Use a shared calendar to schedule meetings and deadlines or a shared folder for team members to access project files and collaborate on documents.
And remember: good organization works best with a lot of communication (which we'll get to later).
Quick Tips:
Make a Pinterest board for designs or elements you like
Look at your business competitors – What works? What doesn't?
What do you not like about your current website? Can you fix these changes on your own, or will you need to hire an outside developer?
What is the name of that font you love? Organize all of your existing brand fonts and any you're interested in using in the future.
Ask YOUR clients what encourages them to do business with you. What do you excel at, and how can you focus on that in the future?
Unique Selling Proposition
Every brand should have a unique selling proposition (USP), and their marketing campaigns should show them off. Think about the what, who, how, when, where, and why of your business or project. What makes you different from your competitors? What is unique about your business? How long have you been in business? How do you serve your clients? What parts of the business do you want to grow?
The more information you can come up with, the better you can tailor your campaigns to attract clients to you and away from competitors.
Quick Tips:
Write an executive summary for your brand. What is the brand all about?
Identify your target audience. Before you can find your USP, you need to know who you're trying to reach with your brand. Research your target audience and understand their needs, preferences, and pain points.
Research your competitors. Look at what your competitors are doing and identify what makes your product or service different. Look for gaps in the market that you can fill. Bam! There's your USP.
Communication
Communication is the glue keeping any marketing campaign together. Did you follow up with that email yet? Is the project waiting on you or your team? Did you look at those creative pieces yet? Small items such as a picture or a tagline can sideline an entire project if a decision doesn't come quickly. Quality communication between team members, stakeholders, and external partners is essential.
Good communication prevents misunderstandings and mistakes and ensures that everyone is aware of any updates to the project. It also builds trust and collaboration among team members. Keeping everyone informed and engaged will create a culture of transparency and accountability at your business. Communication is key!
Quick Tips:
Establish clear communication channels and choose the most effective communication channels for your team. Make sure everyone knows how to use them. This might include email, messaging apps, project management software, or video conferencing tools.
Set expectations and guidelines. Clearly define roles, responsibilities, and timelines for your team members, and establish guidelines for communication.
Be proactive. Communicate with your team before problems arise.
Logistics
Logistics can be a 30-second conversation or a 2-month conversation, depending on the level of organization the project starts at. The biggest thing is keeping track of the accounts/passwords for your social media, website, or five email addresses. These items are easy to list but can quickly escalate into a headache if a previous employee or team member has your Twitter account set up to his personal email and now lives in Alaska!
Keep graphics, photographs, videos, and other old or new marketing materials in secure, organized places. Where will you keep these materials? Who will have access to these materials? Will you need to look back on these materials for future campaigns?
Save a lot of time before starting a project by keeping your marketing materials and account credentials in a known location.
Quick Tips:
Keep a list of accounts/passwords related to your business in a secure location like a safe or a shared cloud drive.
Make data folders and keep items organized by what they are. For example, "Q3 2022 Posters" or "July 2023 Facebook Graphics".
Planning is the key to success when it comes to marketing projects. By setting clear goals, establishing effective communication channels, developing a strong USP, and prioritizing logistics planning organization, you can ensure that your project runs smoothly and delivers the results you're looking for.
If you need a little help figuring it all out, Plan Left can help you with all of the above. Contact us to get started.
Explore Latest Posts
So, this is the story all about how...the band Jefferson Starship, credited with 70s and 80s hits "Sarah" and "Miracles," ... read more

Voice search is quickly becoming a critical aspect of search engine optimization (SEO) as the use of voice assistants like ... read more

Advanced SEO techniques are an essential aspect of search engine optimization in today's digital landscape. They go beyond the basic ... read more