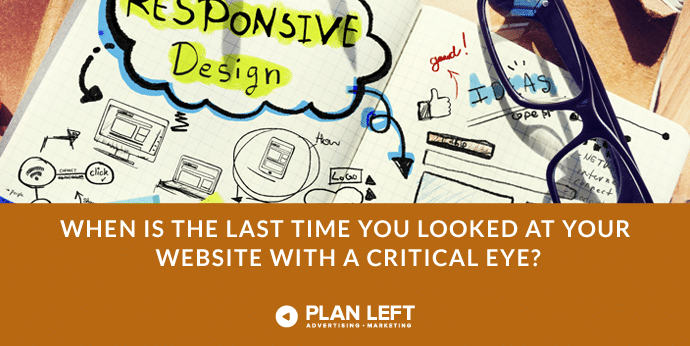 Of course a web shop will try to tell you it's time for a new website, but in some cases, you really should consider what they're selling. This is especially the case if you haven't updated your website in the last five years, you used a DIY site builder, or you trusted the local freelancer and didn't quite get what you paid for. These aren't the only reasons to consider a new website, but they're a good start.
You're probably wondering why your old, free, or haphazard website isn't good enough. After all, you have a web presence now, and that's all you really need for Google—and thus all your potential customers—to find you, right? Wrong. And here's why.
You Need Responsive Design
Older sites simply don't provide mobile-friendly features. When 95% of consumers believe a good user experience is important for any website, regardless of where they view that site, mobile design is important. And now, 80% of consumers use a smartphone to search the internet and 47% use tablets. That's a lot of people you'll disappoint when they can't read the text or see the images on your site.
Mobile responsive design is simply the norm now. Some will seek out mobile templates and use those in conjunction with their current website, but these also bring a host of new problems to the table. First, mobile templates use a separate URL, which doesn't make Google happy. Also, mobile templates aren't friendly to all mobile devices. You could spend all that time and money on a mobile design that only works on tablets.
The beauty of responsive design is you just have to do it once. The programming used for all responsive websites works for all mobile devices, no matter the size, brand, or release date. Even phones and tablets that haven't been invented yet will work with current responsive designs. So, that's reason number one to pursue a new website design.
You Need a Site That Loads Quickly
Our websites load more quickly now, but as load times get faster, buyers get more impatient. Did you know 40% of consumers will abandon a site that takes more than three seconds to load? That percentage skyrockets the longer a site takes to load. Beyond that, 75% will find a new site and start shopping there, while 23% will stop shopping altogether. And of those who will stick around to buy from you after your site loads, 88% will go somewhere else next time.
How much money do these abandonments add up to? Almost $2.6 billion dollars in sales are lost each year to retailers with slow load times. That's a lot of money. How much of that money might have been yours if your site was in top form?
You Need to Provide a Great User Experience
As we mentioned earlier, 95% of consumers think a good experience is of utmost importance. This goes far beyond quick load times and mobile friendly design. Your site needs to be clean, easy to navigate, and above all, readable. With clumsy menus, widgets crammed in everywhere, and tiny text, you'll only irritate your prospective customers.
Examine your website with a critical eye. If you can't be critical, ask several trusted advisors to look. Is it new and fresh? Is there enough white space so that users don't get tired just trying to read? Do those special features work correctly? You might be surprised to learn the website you're so proud of is what's driving customers away in droves.
If you need help with any of these things, we're always here. We respect your brand and your vision, which means we'll work hard to create a website you'll love—but even more importantly, we'll create a website your customers will love.
Explore Latest Posts
Hate. It's a strong word. People use it to describe bad customer service experiences or traffic jams or overcooked meat. They ... read more

With cameras on laptops, phones, watches, glasses, belt buckles, and everywhere in between, who even needs to hire a professional ... read more

Media presentations serve many purposes, not the least of which is marketing your products or services. Before releasing marketing materials ... read more