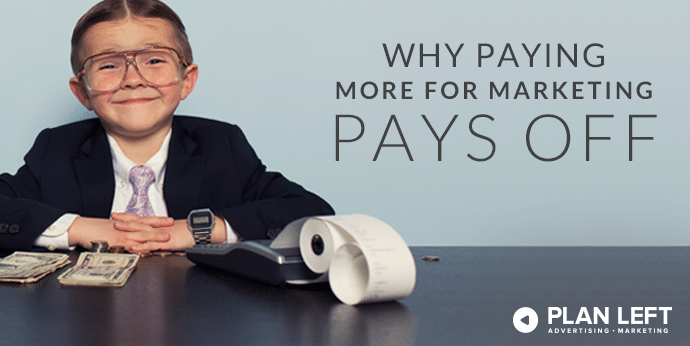 No matter how you plan to market your business, the plain and uncomfy truth is that you'll have to spend money to do so. Even with an abundance of free tools available, marketing gets expensive. When facing the sticker shock, you may be tempted to trim down what you need in an effort to save some cash. Before you do, consider this: Does your business deserve the very best?
We're guessing you really do want the very best for your company. Sometimes that means investing a little more to get the best results. Your next step is determining where to spend that money so you reap the benefits.
Website Design
Your website is one of your biggest and most expensive marketing tools. Consumers spend so much time online, discovering, researching, making purchases, and telling others about their experience. The first contact they have with your company might just be your website. If you've cut corners to save money, your first impression won't be a great one.
See, consumers don't really trust companies with poor websites. If yours is outdated, hard to navigate, or just plain awful, your prospects will go straight to your competitors. Now, could you spare a little more money for a bigger, better, more impressive website that focuses on the user experience? If you can, you should.
Graphic Design
Bad design is so easy to spot, isn't it? If you've ever cringed over someone's images on social media or in print, then you've probably sworn never to do that to your own company. If you're trying to save money on your graphic design, however, you can be sure your images are making others cringe.
With just a little investigation, you can find graphic designers who make beautiful images and, more importantly, build and support your brand. Wouldn't you be willing to pay a little more for "Wow!" instead of lukewarm results?
Content Marketing
What many companies fail to realize is that content marketing is so much more than just a blog. Your content, the information you share with your customers, can be anything from a sentence on social media to a full-length video on YouTube. It's the words you use to describe your brand. It's the images you share to convey your expertise. It's every piece of every campaign you share online, in print, on television, and even on billboards.
Your content can be inexpensive, sure. But will it reach people? If you're not shelling out a little more for quality, then you can be sure your words just aren't reaching people. If you want to know the difference between quality content and so-so, think back to the last time you rolled your eyes at someone's poorly constructed video. Consider the websites that share very little about what the company is all about. Perhaps the worst and most outdated offense is a blog packed with keywords but little else. These are the results of cutting corners with your content.
Social Media
If you thought you could use the free tools of Facebook and Twitter to drum up some business for your brand, you're probably already dealing with severe disappointment. It takes a lot of time, effort, and well-crafted messages to be heard above all the noise. Nothing is actually free, as you've probably learned.
You could take your business to a social media management company, but be prepared to shop around. The cheapest one out there isn't very worried about boosting your visibility. They're excited to play on social media all day and make money for it. You deserve social marketing that supports and furthers your brand. Marketing that reaches the very buyers who need you. It really is an art that requires a lot of research, time, attention, and passion.
Good marketing takes time, talent, and ingenuity. It requires first drafts, revisions, and polishing. Hard work, research, and a deep understanding of the brand. Dedication and so much love for the craft. That type of dedication brings amazing results, but you know what? It's gonna cost you. Just not as much as you'll pay later for cheap marketing.
Explore Latest Posts
Hate. It's a strong word. People use it to describe bad customer service experiences or traffic jams or overcooked meat. They ... read more

With cameras on laptops, phones, watches, glasses, belt buckles, and everywhere in between, who even needs to hire a professional ... read more

Media presentations serve many purposes, not the least of which is marketing your products or services. Before releasing marketing materials ... read more