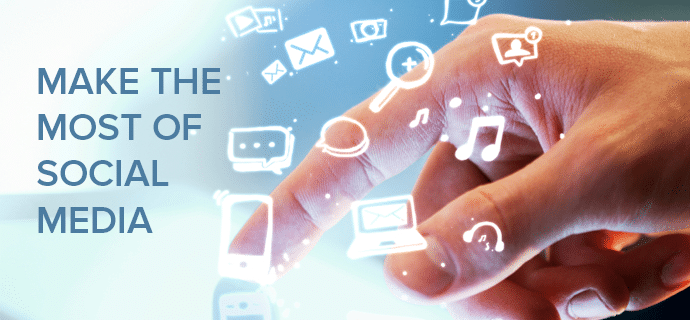 Developing a social media strategy isn't easy, especially since what works for one brand might not work for another. However, there are five sure things that can really make your social media strategy explode into pure amazingness. If you are not currently using your social media networks, now is the time to start. If you are already using social media, I applaud you. If you're not using it effectively, these five ways to make the most of social media will help boost your follows, views, and shares.
1) Hashtags
Hashtags (#) are a great little tool to use on Facebook, Twitter, Instagram, and Vine. They make online searches easier, as you can hashtag a topic, title of work, or what have you. Once hashtagged, your word or phrase is sent to one feed of every post with the same hashtag. More relevant users can then find you from your hashtag, which is neat-o. For more information on how to use hashtags, click here.
2) Personality
Infusing your personality into your social media is probably one of the most important aspects of your social media strategy. Whether you are posting as yourself or your company, you need to have a social voice established. If your company is more laid back and quirky, maybe add a little humor to your posts. If your company is more informational and dry, be more serious. Your audience also wants to see you and your teammates, so don't hesitate to posts photos of events going down in your office or of that ping-pong tournament you owned.
3) Consistency
Be consistent with your social media posts. If you've started posting on social media and then neglected your accounts for a year or two, that is not a good tactic. Be posting consistently so your followers know you're active. This will make them more prone to following you. So all that said, if you're dormant on social media, wake up now.
4) Share Others' Content
Not only should you post your own content, but you should also share other people's content. A good tactic with this is the 70/30 method, which is that 70% of your content is from other sources, while the 30% is your content. Two great sources in finding content that isn't yours is Feedly.com or Storify.com.  Another great thing about these two websites is that you can modify your searches to specific topics you want to post about (i.e. marketing, tech, social media). The sources all come from different websites, too, so there is tons of variety. Try them out!
5) Scheduling and Management
Another glorious thing about social media is that you can schedule your posts into the future! That way, you can create the content, schedule it out for a week or even a month and not even have to worry about spending the time every day to post. Scheduling your posts out leaves you more time for social listening and engagement. A couple of great scheduling and management apps we like are Hootsuite, Buffer, and SproutSocial.
So there you have it, folks: five ways to make the most out of your social media efforts. There is so much to write about social media, so I hope this post is of use to you and your own social media strategy. If you'd like to learn more or need help with these, that's what we are here for. Reach out. We'd love to help.
Explore Latest Posts
Hate. It's a strong word. People use it to describe bad customer service experiences or traffic jams or overcooked meat. ... read more

With cameras on laptops, phones, watches, glasses, belt buckles, and everywhere in between, who even needs to hire a professional ... read more

Media presentations serve many purposes, not the least of which is marketing your products or services. Before releasing marketing materials ... read more