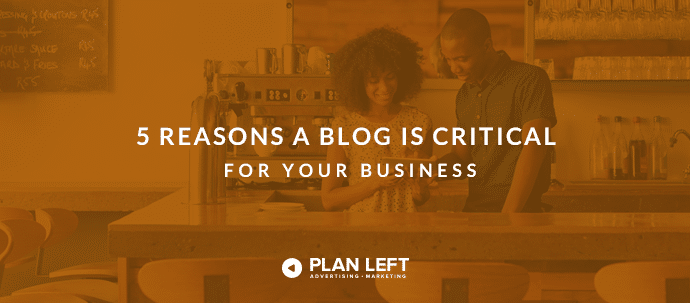 A blog for your business is an important part of inbound marketing. The problem is, a dedicated business blog can take a huge chunk of your time and resources. For that reason, many either forego starting a blog for their business or simply contribute whenever they have the time. If you're putting your blog on the back burner—or worse, ignoring your need for one—you're missing out on one of the most powerful marketing tools available.
Let's take a look at some of the incredible benefits you're missing out on:
Whoa. That's a lot of good stuff that comes from blogging. If that's not enough, here are 5 more reasons you should start blogging for your business right now.
1. It's easy
Most websites come with a blogging portal, so you don't need special web design to make room. All you need to do is write. Now, coming up with topics and crafting articles that will bring in leads is another story.
2. Establish yourself as an expert
What would you tell people about your business and industry if you could address the world? This is your platform to share your experiences and who readers just how well you know your stuff. Show your authority, because authority = credibility.
3. Gain consumer trust
If potential buyers believe you're an expert in your field, they'll trust the recommendations you make within your blog. Give them special insight on your products and services, share useful information that makes their lives easier, and above all, soothe their pain points.
4. Get to know your customers
Having a blog is like getting free market research. Your readers won't be able to help themselves when it comes time to make comments or share their own experiences. Learn what you can, and you can tweak your buyer personas as you go.
5. SEO
Why didn't I list this one first? Because credibility and trust are much more important to Google than keywords. Still, you can use your blog to direct potential buyers to your website through search phrases and keywords. As long as your first goal is information, the SEO will fall into place.
Now, are you convinced and ready to start a blog? It really does take some time and effort, but the benefits really are worth the cost. And remember, if you just don't have the resources available, you can trust us to blog for you. We'll get to know your buyers, your products, and your industry so that we can create compelling, lead-generating blogs in your stead.
Are you ready to get started?
A version of this blog previously appeared in September of 2014. It has been updated to include new statistics, information, and links.
Explore Latest Posts
Hate. It's a strong word. People use it to describe bad customer service experiences or traffic jams or overcooked meat. They ... read more

With cameras on laptops, phones, watches, glasses, belt buckles, and everywhere in between, who even needs to hire a professional ... read more

Media presentations serve many purposes, not the least of which is marketing your products or services. Before releasing marketing materials ... read more