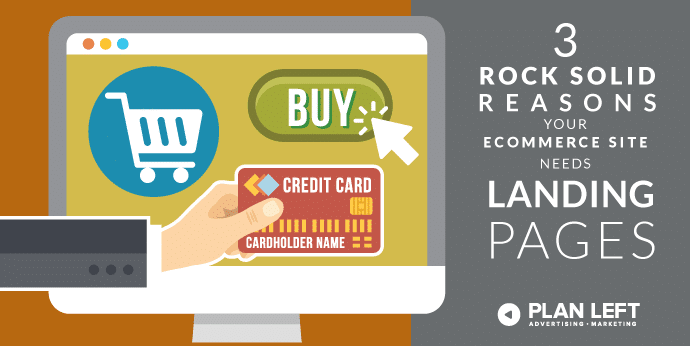 The very thought of creating a new landing page every time you advertise anything for your ecommerce business can just be exhausting. If you promote a new discount each week or introduce new products on a regular basis, you might spend a large portion of your time creating copy and graphic design for a landing page. The loss of time might be reason enough to avoid creating landing pages, but you simply cannot.
Why?
Because landing pages are one of the most important components of your ecommerce website. The reasons are many and varied, but we'll try to cover all of them right here for you.
Avoid Confusion
After creating your Google AdWords or Facebook Ad campaigns, you'll have put a great deal of time into coming up with your copy, choosing your keywords, and crafting stunning graphic designs. All you need at that point is a link right to your website, and the job is done, right?
Wrong.
If you're simply advertising your company, you may get away with a link to your company's homepage, but you won't get much out of it. Without a clear call-to-action, potential buyers won't know what to do once they get there. Even a CTA there on the main page of your ecommerce site could be more confusing than helpful, especially if it doesn't match the message of your advertising.
If you're promoting a specific discount, sale, or product, then a landing page is absolutely crucial. A simple link to the home page of your website will stop any eager customer in his or her tracks. After clicking through, their purchase process should be as easy as possible. If you make them search once they arrive, you'll lose them all.
Create Opportunities
A landing page also gives you the opportunity to gather more information about your customers. Once they arrive, you can present options for exclusive deals in exchange for their contact information. This helps you stay on top of where they are in the buying cycle, as you can compare the number of times a buyer has provided their information to the number of purchases they've made.
Also, once you have that email address or mailing address, you can keep those customers up to date on your latest product lines and give them access to discounts first-time buyers won't receive. With that contact information, you can stop marketing and start building true relationships.
Better SEO Results
Almost any "must-do" Plan Left suggests has an SEO benefit, and ecommerce landing pages are no exception. By creating a landing page for every paid ad and internal call-to-action, you add more pages to your ecommerce website. More pages means Google has more to look at and to index. Each page provides fresh content and yet more chances to include your most popular search terms. All of these are good things.
Then you have the Google AdWords Quality Score to consider. If the keywords in your paid ad through Google are included in your landing pages, then your quality score goes up. A higher quality score means you'll pay less per click. If you just link to the homepage of your site, you will receive no quality score benefits, and your cost per click will increase.
If you've been advertising your ecommerce offers and discounts without the added benefit of landing pages, it's not too late. We'll help you learn to make landing pages that convert visitors into customers and then nurture those relationships into long-term loyalty.
Explore Latest Posts
Hate. It's a strong word. People use it to describe bad customer service experiences or traffic jams or overcooked meat. ... read more

With cameras on laptops, phones, watches, glasses, belt buckles, and everywhere in between, who even needs to hire a professional ... read more

Media presentations serve many purposes, not the least of which is marketing your products or services. Before releasing marketing materials ... read more